CMS Portal is free marketplace for submitting both Free and Commercial Joomla, Drupal, Wordpress, Magento, phpBB, Prestashop, vBulletin, Opencart Templates, Extensions, Plugins and more. To upload your items on CMS Portal, please read the following guidelines to ensure that your submissions meet our requirements.
Why my item is not accepted?
If your item is not approved on CmsPortal, please check for following reasons and update again:
Lack of Icon 120px x 120px
Lack of Preview image 740px x 350px
Irrelevant Topics
Step I:
Login or Register if you don't have any account on CMS Portal yet.
Step II:
Click "Submit Product" link on the top menu or "Submit Your Item" Button at Homepage or listing pages. After that, you'll see a submission form that enables you to upload your product.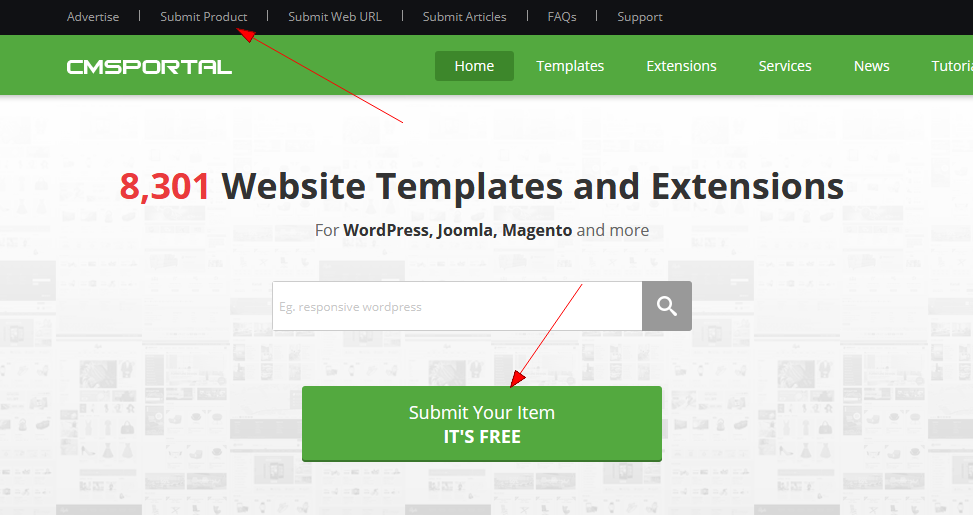 Step III:
Fill out required information in the submission form.
Category: Click to "Change Category" to select the right category for your Template/Extension
Name: Your product name
Description: Write your product description using Joomla Content Editor or you can add directly your html file. The content must be clear with full information and list features of your product.
Price: Add your product price ($). Keep $0.00 if your item is Free
....
NOTE: Please don't use iframe in your demo link
All fields marked with an asterisk (*) are required.

After you fill out all necessary information required, click "Submit" button, then your product will be saved and uploaded to CMS Portal. If the submit button doesn't work, please check again to make sure you filled all form fields. Our administrator/reviewer will check your item in 2 days. If your item meets all requirements, it'll be accepted and published. In case your product gets rejected, please recheck and make necessary changes, then resubmit to get accepted. To check your article status and edit/delete your submitted products, go to your Profile and click "Products" to go to your item manager.
If you have any questions or need help, please contact us via email: This email address is being protected from spambots. You need JavaScript enabled to view it..


---
Other Guidelines:
Thanks for reading!